Not lagging far behind the other 13 March scheduled release Ikko-Mikke, Rythm Boyz have launched second song from Chal Mera Putt 2 titled Majboori.
First song "Boota Gaala kad Da Ae" is already ruling charts . Majboori is sung by Gurshabad while lyrics are written by Satta Vairowalia and Dr Zues has given music.
Directed by Janjot Singh and written by Rakesh Dhawan, Chal Mera Putt is sequel starring Amrinder Gill and Simi Chahal in lead releases along Satinder Sartaaj starrer Ikko Mikke on 13 March.
Youtube Link: https://youtu.be/-WVW07U5oXM
Lyrics : Satta Vairowalia
Music : Dr Zeus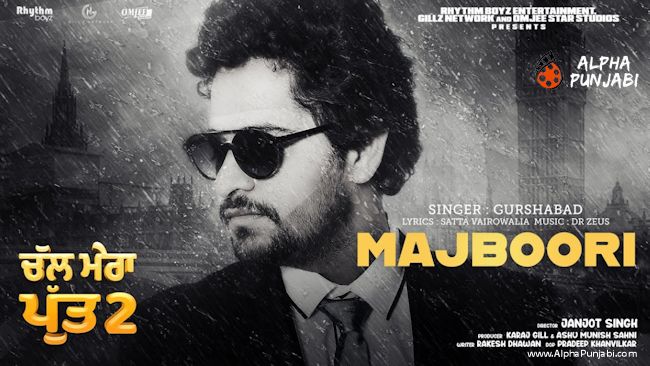 Majboori Lyrics
Yaara Shanu to ye bhi nhi pata
Jede chahre piche chad ke aaye hai
Zindagi me kade dekhne bhi hai
Je sarkara changiya hundiya
Kisse de ghar na tangiya hundiya
(Kisse de ghar na tangiya hundiya)

Je sarkara changiya hundiya
Kisse de ghar na tangiya hundiya
Je na paira lagya hundiya
Door draadea rahwa Nu
Sab di ethe koi na koi Majboori ae
Koi pardesi ghar ni chad da chaava nu
Sab di ethe koi na koi Majboori ae
Koi pardesi ghar ni chad da chaava nu
Bellati putt begad na jaawa
Maa[peya nu si fikar jeha
Nashya da hal chadya aunda
Khabra wich si jikar jeha
(Khabra wich si jikar jeha)
Darde maarya jigar chirde
Paige padi aahwama nu
Sab di ethe koi na koi Majboori ae
Koi pardesi ghar ni chad da chaava nu
Sab di ethe koi na koi Majboori ae
Koi pardesi ghar ni chad da chaava nu
Kachya di gal door sabar ta
Pakya nu na aunda Ae
Bairo waliya umar aakhiri
Pind btauni chaunda ae
(Pind btauni chaunda ae)
Mardea tak na bhulya jaana
Roh wich basiya thava nu
Sab di ethe koi na koi Majboori ae
Koi pardesi ghar ni chad da chaava nu
Sab di ethe koi na koi Majboori ae
Koi pardesi ghar ni chad da chaava nu