Rating: 3.5 Stars
Thanks to aggressive promotions and buzz created around Ik Sandhu Hunda Si. Movie has generated great excitement but question is, is it worth the hype and buzz. Let us find out in our review of Ik Sandhu Hunda Si.
The theme of movie is action and story is based on student politics, mingled with friendship and love. The story starts with Sandhu played by Gippy Grewal and also ends with him. While complimenting roles are played by Roshan Prince, Dheeraj Kumar, Ragubir Boli, Pawan Malhotra, Vikramjeet virk with female lead bollywood actress Neha Sharma.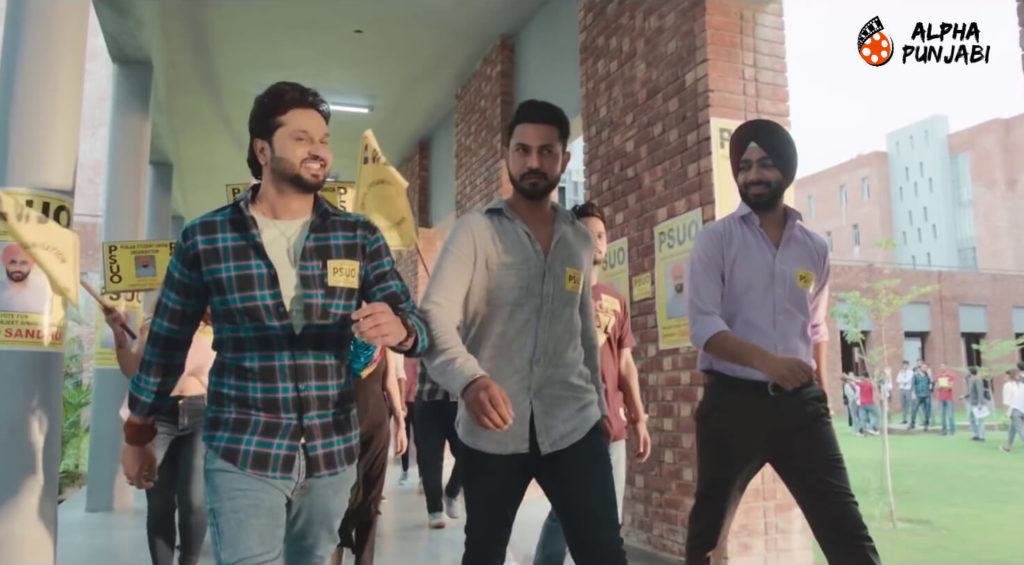 Sandhu is shown as the most famous/known boy of University and is loved by all. He can do anything for Yaari. His yaar(s) include Roshan Prince, Raghveer Boli and Dheeraj Kumar. His life takes turn when his lady love Simran (Neha Sharma) happens to be sister of villain politician played by Pawan Malhotra and Vikramjeet Virk.
Although Gippy Grewal does not look odd as a University student (unlike Dev Kharoud in Zakhmi) and acted in few scenes convincingly, however considering requirement of role more masculine lead should have been preferred. At times it is difficult to endure Gippy with his average body type hitting so many people including Vikramjeet Virk.
Babbal Rai and Anmol Kwatra had very mediocre role, were only seen driving/traveling and chanting name of Sandhu. We were expecting bigger role for Raghveer Boli however he still kept audiences engaged in his soliloquy conversation with Babbal and Anmol. Roshan Prince did pretty good job but this guy needs to reduce weight to look apt for university student role.
Dheeraj Kumar with turban looked matured of all and was good in appeasing Sandhu. Surprise package was entry of debutante Vikramjit Virk who is delight to watch and brilliantly played role of Kala and so was Pawan Malhotra with his experience and spot on dialogue delivery(he knows what he is doing). Gippy's love for bollywood continued in this movie as well with introduction of yet another bollywood actress Neha Sharma. Nothing special about her performance, rather any known Punjabi actress would have done justice to the role. If Neha is keen in working in Punjabi movie, she needs to focus on dubbing, emotions and dialogue delivery.
Rakesh Mehta has directed this movie. Considering story and script, he did pretty decent job. Some scenes were really commendable specially the ones with large gathering as it is not easy to keep focus and manage such a large crowd. Sham Kaushal has handled actions and clearly one can see difference in quality of sequences being managed by him.
One of most weak aspect of movie was story which has been written by Jass Grewal. Movie is straight out of Sharry Mann's hit track "Bade Chete Aunde nai – Yaar Anmulle" with references to surnames and their importance in University. With type of experimentation happening lot could have been done with twist and tale. Sikander series (kartar cheema) had better upright story and narrative.
Technically movie is well versed. Good editing complimented by excellent background score and near perfect cinematography. We did observe picture clarity issue in theater as picture lacked sharpness but this could be print/cinema specific issue and not globally.
Overall "Ik Sandhu Hunda Si" is commercial potboiler, leisure watch keeping all logic aside. Solely for entertainment purpose. Gippy Grewal fans would definitely love his expedience and cherish overall packaging. Baakian di Marzi hai 🙂